SPAM Factory Inc.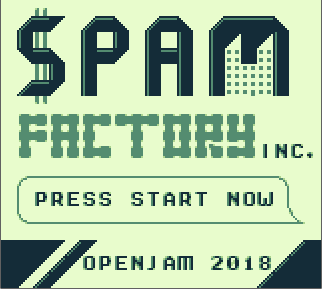 A simple clicker game (prototype) made for the original Gameboy handheld console for openjam 2018.
Play it in your browser. http://pixelsiege.net/spamfactory/
Download the rom and play it on your favourite emulator.
Download and flash to a cartridge to play it on real hardware.
This game is open source (BSD-3-Clause)! For more details please checkout the github repo at: https://github.com/madpew/spam-factory
The official Soundtrack is now available on soundcloud (licensed under CC): https://soundcloud.com/madpew/sets/spam-factory-inc-ost

Install instructions
download and play with emulator of your choice
download and copy to a flashcartridge of your choice to play on the real hardware.